It has been years since you have owned a Whistler TRX-1 (or TRX-2). You love that scanner because it helps you monitor the police in your area. You turn it one day and it just beeps showing an error code. What happened? Why won't your TRX-1 scan, but keeps displaying Error 3-03 (Error 4-00 on the TRX-2)?
Do not worry! This guide will tell you how to remedy that message. Those two codes mostly pertain to your device's memory card. The first step I would recommend is to take out of the device and blow on the card and the slot where it goes into. Some speck of dust or dirt might have gotten in there, and is causing a disconnection from the pins to the card.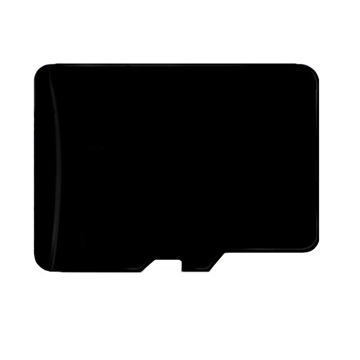 NOTE: The TRX-1 has a microSD card.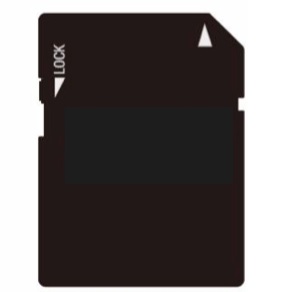 NOTE: The TRX-2 has the normal-sized memory card; which is just called an SD card. The factory SD card is still the old type of SD card where there is no adapter slots for smaller microSD cards.
If you huffed and puffed like the big bad wolf onto the memory card and slot area, but the problem still persists; the next step is to format the memory card through Whistler's EZ-Scan software.
First step is to connect the memory card to your computer (as of May 17, 2021; software for scanners only work for Windows Operating Systems. No Apple MACs as of this date).
NOTE: It is much easier to connect the memory card straight to the computer. You will have to get the memory card out of the device, but connecting the memory card this way will have no interference.
After you boot up Whistler's EZ-Scan Software, go to Scanner/SD Card at the top, and we are going to select "Prepare Scanner Memory/SD Card for use".
NOTE: Both TRX-1 and TRX-2 have their own separate programming software, so make sure that you have the correct software. Do not know why Whistler did that, because they are both identically the same.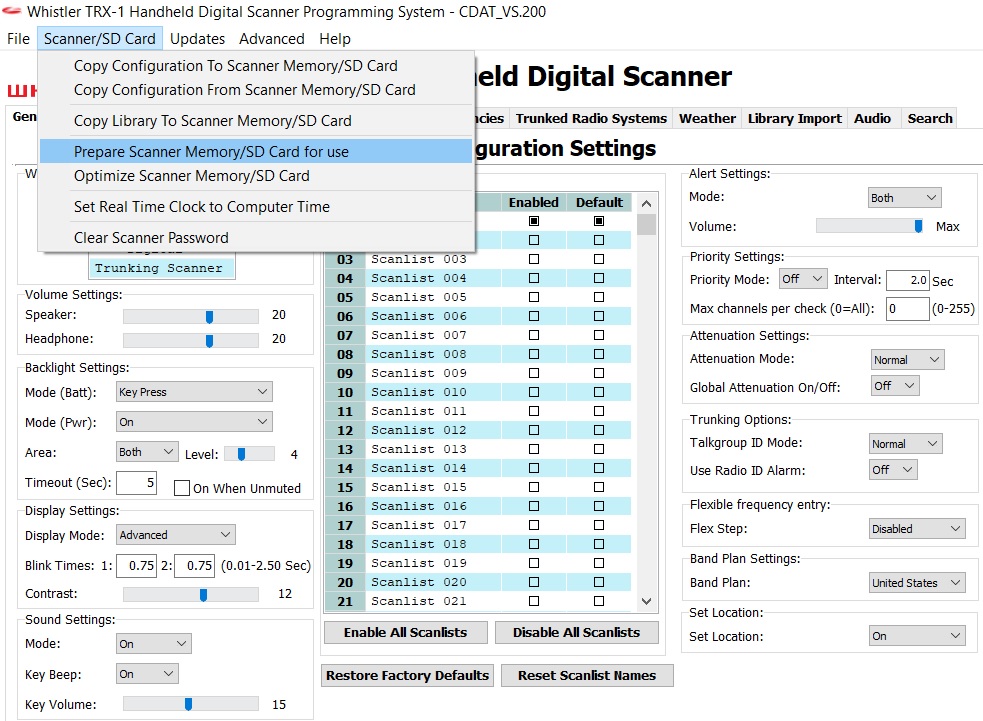 A small window should pop up. Replicate what I have selected for check marks, and then press the Format button; which is where my cursor is rested on in the picture below.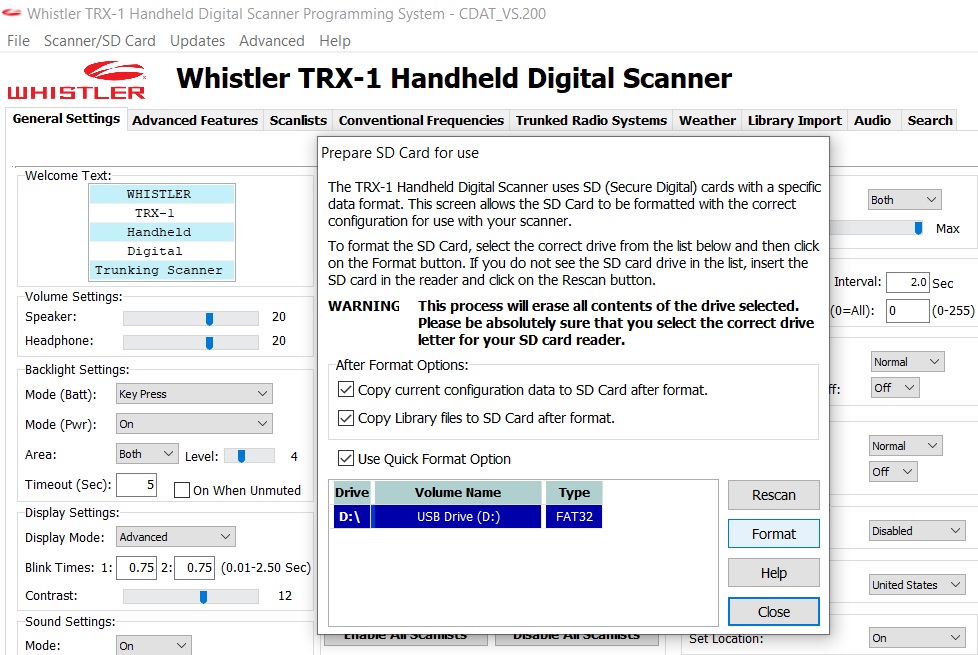 We are going to click Yes on the next Window; which is the Format Warning message.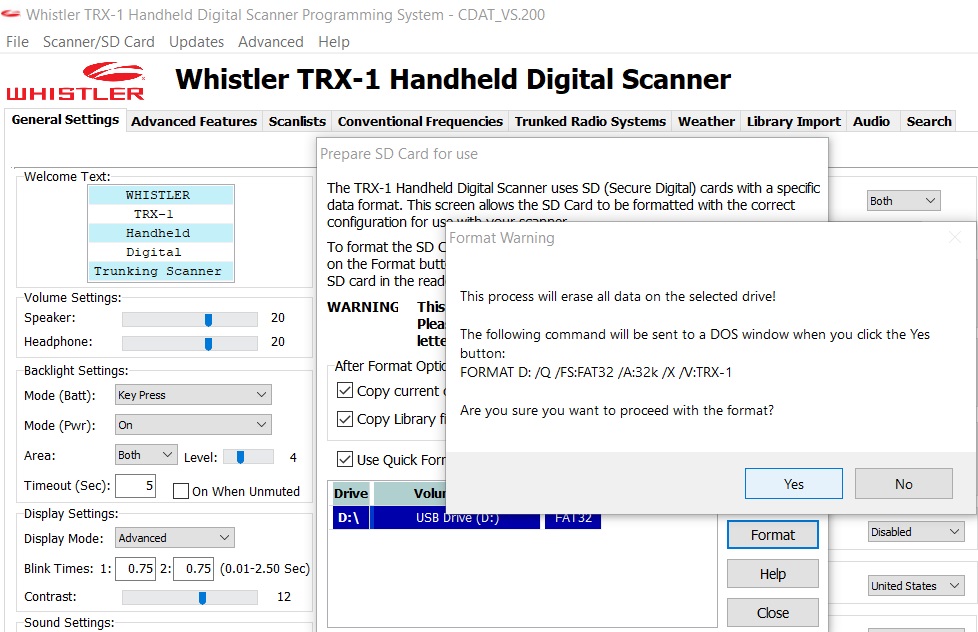 Now, I know that the next picture might scare some people, but do not fear! Just simple press the ENTER button on your keyboard.
The Command Prompt will work through things, then prompt a new window; which will ask if you want to import any programmed folders into your device. I got rid of our customers' names for privacy reasons, but this is how the window will look. If you do not want to import any folder; or if you do not have any programmed folder, just make sure you have to checkbox marked and press the Copy Folders button.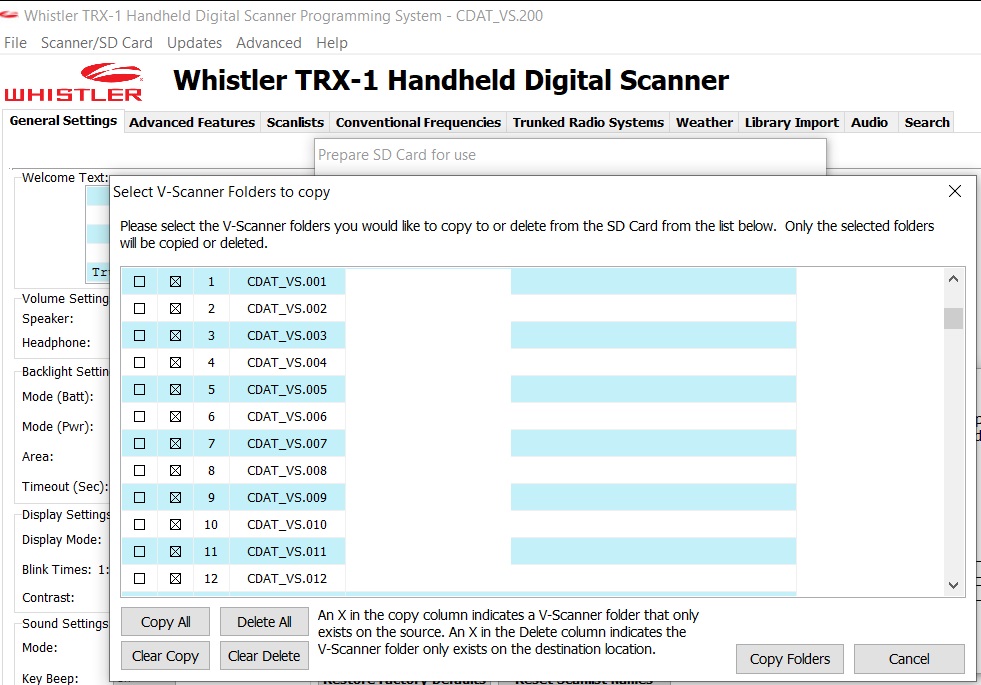 Last of all, the software will start to load the database onto the memory card, and you are now done! Plug that memory card back in and start scanning. You might have to redo your time and date.
NOTE: If you have performed all of this, and it is still giving an error message; then you will most likely need a new memory card because it is probably damaged internally.