In this guide, we will go over Analog, Digital, and Simulcast.
First off, we will go over when an Analog scanner will be just what you need
NOTE: This guide was created on May 7, 2021. The counties in this example could have updated their system at the time you are reading this.
ANALOG
Our county of example for the analog portion will be Clay County of Alabama. Thanks to Radio Reference, we can tell that all of Clay County's public safety frequencies are on FMN; which is just analog. Some counties will list FM instead, but both FM and FMN just mean analog. The SR30C is our most common recommendation for analog scanners.

I can confidently say (as of May 7, 2021) that an analog scanner is all you need for Clay County because even that location does not have a single site for the digital trunked statewide system of Alabama called AIRS (Alabama Interoperability Radio System).

To make things even better; you should be all set with an analog scanner for Alabama, because their highway patrol is still not on digital (yet). With a simple search of "Alabama State Patrol regions" on google, we can find that Clay County of Alabama belongs to Troop G of the highway patrol.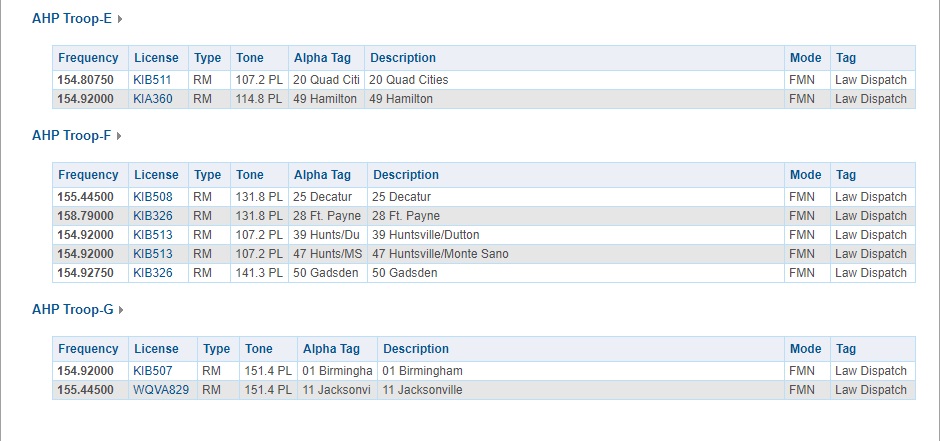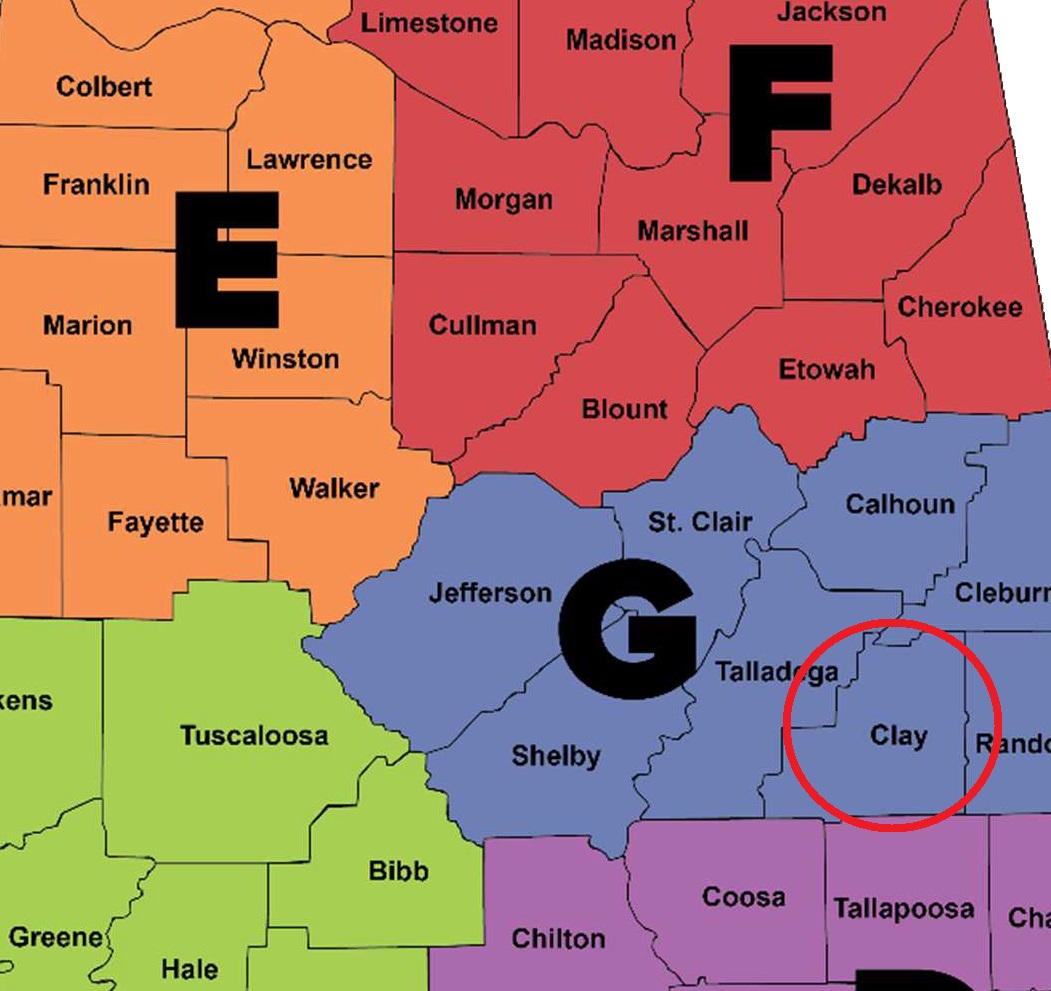 DIGITAL
Next, it is time to go over when a digital scanner is needed. The example below will be Dona Ana County in New Mexico. Analog scanners do not have capabilities to monitor software, so when you see DMR, ProVoice/EDACS, or NXDN listed; you will need a digital scanner like the BCD436HP, TRX-1, or HomePatrol 2.
In order to pick up the city of Las Cruces, you will need the EDACS software to monitor that trunked system. In order to learn more about the three software, click here.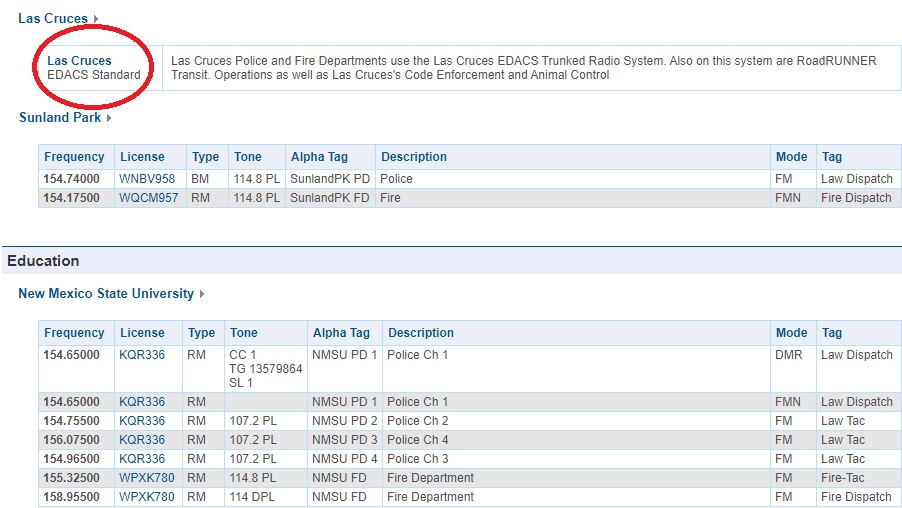 Let's say that you do not want to scan the city of Las Cruces, but your child is attending New Mexico State University; which is something you want to monitor. According If you want to pick up all of the police frequencies there; you will need the DMR software as noted on Radio Reference.
If you see DMR, NXDN, EDACS, or P25 under mode; we recommend a digital scanner.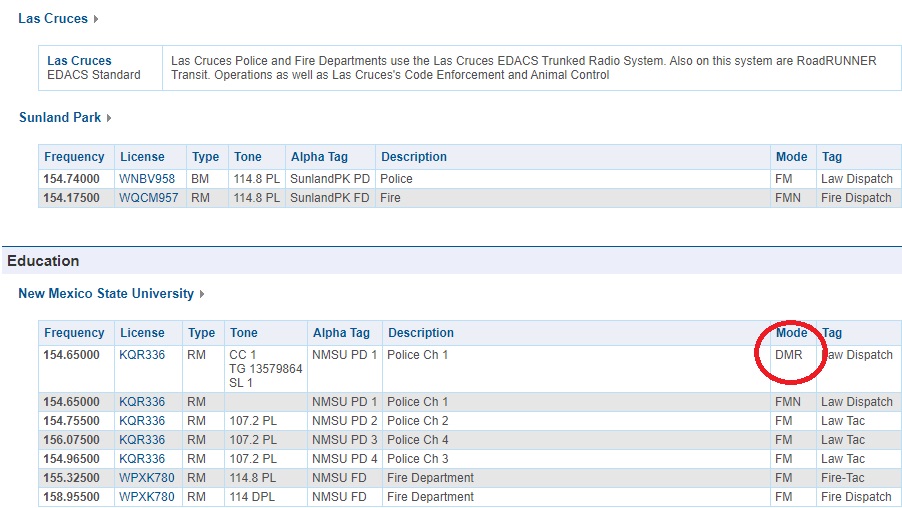 Digital devices can monitor analog and trunked systems.
SIMULCAST
The last thing to go over is simulcast. When do we at Zip Scanners recommend the SDS100 or SDS200? We recommend those two devices when we see notations of simulcast on trunked systems.
As you can see from below with an oval, Mecklenburg County of North Carolina has the word "Simulcast" right after the name of their site.
As noted with a rectangle; trunked systems have talk groups all sharing the same frequency, but simulcast is different because the frequencies are constantly bouncing and transmitting through multiple towers.
As of now, no other devices can pick up simulcast because they were built before the USA began to use simulcast systems; therefore, they do not have the firmware and capabilities to pick up that system.
BONUS
If you see the letter E under mode, then it means that frequency is encrypted. Whether if it says DMRe, DMRE, FMNe, FMNE, DE, NXDNe; they all stand for encryption.
Escambia County of Florida is our example of a trunked system that has encryption.